Honda Fourtrax 420 FE1
£6,680.00 Plus vat
GET IT DONE
With its rugged next-generation styling, the Honda Fourtrax 420 FE1 offers exceptional pulling power, all-weather easy starts and quick acceleration, delivered by a fuel-injected, liquid-cooled 420cc engine. It also features a beefy 5-speed gearbox. For stopping power to match, dual front hydraulic disc brakes with disc covers incorporate patented built-in scrapers that remove mud and snow from inside the front wheel.
Easy to maintain and handle, the Fourtrax 420 is fun to ride with all the reliability you would expect from a Honda ATV.
Brand
- Honda
Related Products
£

8,500.00 Plus vat
UNSTOPPABLE
You have everything you need.
It's a lot of land, but you've got it covered – 675cc of fuel-injected power will get you a long way in a day. And you've got a chassis you can put where you like, with a drivetrain that deals out speed and sure-footed traction in equal measure whatever the terrain.
£

4,900.00 Plus vat
Introducing the EURO 4 CFORCE/TERRAIN 450EPS. The small footprint of the TERRAIN 450, along with electric power steering, (EPS on high spec models only) racks, tow ball and winch makes it an ideal vehicle for a multitude of applications. The engine gives an impressive 31hp which is smoothly delivered through the fuel injection giving it great fuel efficiency.

EURO 4 compliant models each offer improved features including:
ON BOARD DIAGNOSTICS
NEW EMISSIONS STANDARDS
FRONT AND REAR DIFF WITH DIFF LOCKS
FRONT NUMBER PLATE MOUNT
HAND OPERATED PARKING BRAKE
IMPROVED FUEL EFFICIENCY
£

7,300.00 Plus vat
The Foreman is built with all the quality, reliability and advanced features expected of a Honda ATV.
Swingarm Suspension
The Foreman 4×4 rear swingarm with its solid axle provides superior capability for towing and hauling. Its long suspension stroke and plush seat let you tackle your faviourite trail or the toughest chores in comfort all day long.
35W Headlights
Your exploring or work doesn't have to stop when the sun goes down. Powerful twin headlights offer excellent illumination for the take at hand.
Styling
Our Foreman models' bodywork still gives these ATVs a tough look that's designed to last, shrugging off the scrapes and dings of the job or the woods. But now they look even better, with crisp, bold lines.
New 1.9 Front utility box
The perfect size for small items you want to access quickly—like a cell phone, GPS, or a spare pair of gloves.
Superior cargo capacity
With strong, steel cargo racks front and rear, both offering increased flat surface area than earlier models, the Foreman is ready to carry what you need.
Longitudinal Engine Layout
By orienting the engine crankshaft front to back, we route the flow of power straight to the wheels without any unnecessary right-angle detours, reducing powertrain friction and putting more grunt to the ground.
2 Year Honda Warranty
Our manufacturer's warranty keeps you moving.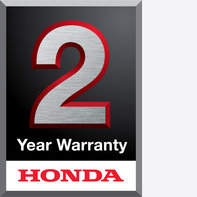 Whether you're using it for farming, game keeping, forestry, equestrian or snow clearing, your Honda ATV will quickly become an essential part of your daily routine. You'll rely on it in all weathers, on all terrain and for an amazingly wide range of jobs. So a problem with your new ATV is the last thing you'll want, but with Honda's reputation for reliability, it's the last thing you can expect.
That's why we guarantee the build quality of our ATVs with an industry-leading manufacturer's warranty.